It's already one of the most popular video games in the world, but for dozens of local Marines on Tuesday, Madden took on an entirely new life of its own.
It was all part of the annual Pros vs. GI Joes event at Arrowhead, which paired members of the Kansas City Chiefs against local troops in Madden while creating an experience unlike any other.
"We started back in 2007 as a way of giving troops a different experience with pro athletes," said Greg Zinone, Founder of Pros vs. GI Joes. "When you sit down and play a video game, it breaks down barriers. It doesn't matter if you're the biggest star athlete in the world or the highest-ranking military official, when you have a controller in your hand, it's like you're playing with your best friend after five minutes."
Quarterback Patrick Mahomes, tight end Travis Kelce and rookie quarterback Kyle Shurmur all stopped by for the event to show off their skills, sign some autographs and thank our Servicemembers for what they do.
"I have unbelievable respect for people that sacrifice for this country, and when you throw in Madden, it makes it a fun time for everybody," Kelce said. "It's a cool opportunity, not only to get involved with the community, but to also show some respect to the people that certainly deserve it."
The event also served as a kickoff for the annual Toys for Tots drive, which will take place on Sunday prior to the Chiefs' matchup with the Oakland Raiders. At 54 years in length, the Chiefs' Toys for Tots collection is the longest-running relationship of its kind between an NFL franchise and the Marine Corps.
"I'll be at the game on Sunday – it'll be my first game ever – and we'll be collecting both money and toy donations for the less fortunate," said Cpl. Sienna Montgomery. "We donate about 18 million toys a year, and the Chiefs have partnered with us for years on this to help families."
Fans can participate on Sunday by bringing new and unwrapped toys for boys and girls up to the age of 13. Servicemembers will be stationed outside of stadium gates to collect all donations, providing fans with an opportunity to make a difference for kids in need this holiday season.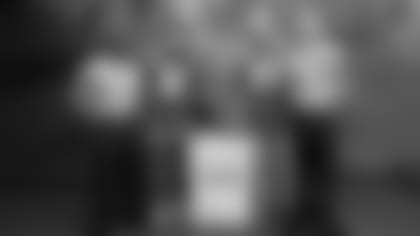 And before they take their post, the Chiefs ensured that each of the Marines in attendance on Tuesday left with an experience of a lifetime.
"It means a ton," Zinone said. "I wouldn't be doing this for 12 years if these troops didn't appreciate it. The feedback I get back is overwhelming. They get so excited about doing something they love with these athletes that they know. It's an experience unlike any other."