The guy is responsible for some of the most electric plays in NFL history, and in just three weeks, Dante Hall will announce one of the newest members of the Kansas City Chiefs.
"The Human Joystick" was a human highlight reel during his time in Kansas City, returning 12 total kicks for touchdowns over seven seasons. Hall put together the bulk of that production during a remarkable stretch between 2002-03, finding the end zone seven times in just 10 games.
There was the 100-yard kickoff return against the Pittsburgh Steelers, the 97-yard return against the Baltimore Ravens and, of course, the unforgettable return against the Denver Broncos that saw Hall retreat all the way back near the Chiefs' end zone before exploding for a 93-yard score.
That final touchdown marked Hall's fourth-consecutive game with a score, setting an NFL record.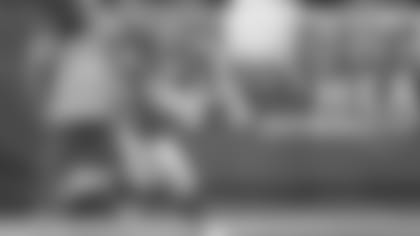 He's among the top players to ever suit up for Kansas City, and all these years later, he's been tasked with reading the Chiefs' third-round selection at the NFL Draft.
"I'm both excited and honored [for this opportunity]," Hall said on Friday.
Hall is one of several NFL Legends that will be representing various teams at the Draft later this month, and the list could grow even more as the Draft approaches.
Click here to see the list of all 64 former players currently scheduled to take the stage in Nashville.