The memorable moments created by these two are frankly immeasurable.
They were two of the most exciting football players in the league for a time and helped foster a generation of Kansas City Chiefs' fans that still fill Arrowhead Stadium today.
And while their playing days may be behind them, Dante Hall and Priest Holmes were still doing their part to better the community on Tuesday afternoon by kicking off the 22nd annual Chiefs Kingdom Blood Drive in partnership with the Community Blood Center.
"Every day, we need to collect over 500 units of blood – which can be really challenging heading into the holiday season. People are busy, so they forget to donate blood," said David Graham, Executive Director of the Community Blood Center. "This is a great reminder."
Hall and Holmes signed autographs and took pictures with donors for nearly two hours, encouraging folks to come out that may not have otherwise.
"There are times of the year when there's of a shortage of blood, so we're out here raising awareness and encouraging people to donate," Holmes explained. "This means a great deal to me because we know how important this is. They really need the help, so as many people here in Kansas City that can donate, the better."
"It's a great cause," Hall added. "I've always donated myself, and to be partnering with the Chiefs and the Community Blood Center is a beautiful thing. I was happy to help when they asked me."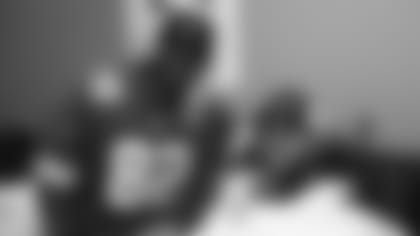 The Community Blood Center supplies 65 hospitals in the Kansas City area, northwest Missouri and northeast Kansas. The Chiefs first teamed up with the organization back in 1998 and the drive has continued ever since, growing tremendously over the years courtesy of generous donors and fans. Last year alone, the drive collected nearly 2,000 units of blood for those in need.
That mission was underway yet again on Tuesday and will continue throughout the week.
"It's just a great event for individuals to come out and donate to help us get ready for the holidays and show support for the Chiefs," Graham said. "These two individuals have meant so much to the Chiefs in the past and we're so excited to have them out here. It's a great time to be a Chiefs' fan, and I can't think of a better way to show that support than to donate some blood and to meet these two."
It was a responsibility that both players were more than willing to embrace.
"During my playing days, the fans came out and supported us no matter what," Hall said. "It's an honor to give back to the community that gave me so much."
To learn more about the Community Blood Center, click here.