They devote their lives to protecting those that they've never met, selflessly stepping forward to defend all that we hold dear in this country.
These individuals don't join the service for recognition or fame, it's just simply what they feel called to do, forgoing personal ambition in the private sector to become a part of something much larger than themselves.
They're the brave few who make up our Armed Forces, and some of the nation's very best are stationed right here in Chiefs Kingdom.
The Chiefs have a rich history of supporting our men and women in uniform throughout the years, and while the traditional "Salute to Service" programming can't take place at Arrowhead Stadium this year due to the COVID-19 pandemic, the organization is still doing its part to recognize the real heroes in our community.
That continued last week, as SMSgt. Jeffrey Watson was recognized as the Chiefs' "Salute to Service" honoree presented by Crown Royal during Sunday's game against the Atlanta Falcons.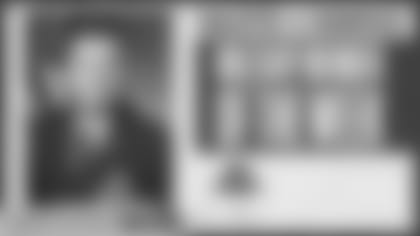 SMSgt. Watson is set to retire next month after nearly four decades of service, including a 34-year career with the 149th Tactical Fighter Group that sent him all over the globe to maintain and inspect various types of support equipment among other duties.
His career has included stops in Germany, Turkey, Kuwait and Poland in addition to various locations throughout the United States, providing this Barnard, Missouri native – a town of 200 people – with an opportunity to see the world.
"I joined because I wanted to serve my country, meet new people and travel the world, so it's been a great run," SMSgt. Watson said. "I never thought I'd stay in this long, but here I am 40 years later."
SMSgt. Watson joined the Air National Guard in St. Joseph at the age of 18 before transferring to Kelly Air Force Base in San Antonio, Texas in 1986. He's been there ever since - earning numerous awards and decorations throughout his brilliant career – but despite nearly four decades deep in Dallas Cowboys' country, SMSgt. Watson had held on to his roots when it comes to football.
"I've been a Chiefs' fan since I was a little boy. I remember when they won their first Super Bowl," SMSgt. Watson explained. "In fact, my commander is actually a big Chiefs' fan too – he grew up near Joplin – and he's the one who called me with the news that I was selected for this honor. He told me and I was so excited."
Regularly attending games at Arrowhead Stadium is top of mind for SMSgt. Watson as he prepares to retire from four decades of serving his country, and as the Chiefs defeated the Falcons on Sunday, the franchise that he grew up watching recognized him for a job well done.
"I'm just very fortunate," SMSgt. Watson said. "It's been a pleasure and an honor to serve my country. I leave with no regrets and a happy man."