They ventured into the Kansas City Chiefs' locker room as disbelief filled the air.
The nameplates and jerseys were all there, but the lockers didn't belong to Patrick Mahomes, Travis Kelce or Frank Clark. On this particular afternoon, they were meant for 75 Special Olympics athletes who were about to fulfill a lifelong dream.
This surprise – which ignited a euphoric atmosphere that rivals game day - was how the third-annual Football Fantasy Camp began on Tuesday, and after suiting up, it was time to take the field alongside none other the Chiefs' rookie class for Play60 activities, high-fives and some touchdown celebrations.
"I just wanted to give them that feeling of scoring, being in the end zone and having people cheer for you," said wide receiver Mecole Hardman. "Hopefully, they can be like, 'Mecole was there when I scored!' Things like that are special and I'm just happy to be a part of it."
Hardman was joined by nearly all of his fellow rookies at the event, which provided the athletes – who represented Special Olympics Missouri, Special Olympics Kansas and the YMCA Challenger organizations – with a chance to show off their skills for the professionals.
"It's great to have other athletes supporting our athletes because they can see somebody else doing the same things that they're doing: practicing and working hard to play the sport that they love," said Kami Delameter, Senior Director of Development at Special Olympics Missouri. "I think the players will definitely go home tonight feeling like they not only had fun, but they learned some things from our athletes, too."
The rookies spent more than an hour with the athletes while leading them through a variety of football-related drills. Participants ranged from young kids to adults, but no matter their age or background, the collective sense of excitement was palpable on the Arrowhead grass.
The event was nothing new for Hardman, who has dedicated his time to those with special needs for much of his life. In fact, the University of Georgia product has volunteered through the "Friends Helping Friends" program in his hometown to better the lives of those with special needs since he was in sixth grade.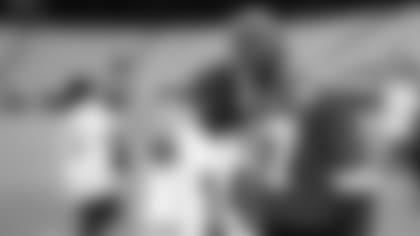 Hardman had been to dozens of events just like this one back home, and now a professional in Kansas City – not to mention the NFL's leader in yards-per-catch through three games – the speedy wide receiver isn't planning on slowing down.
"Everybody sees me as the football player, but these kids see you for you. They see me as Mecole, not the football player. I love being around that, having fun and acting like a kid," Hardman said. "It's about just giving them good energy, giving them good vibes and just being positive with them. That goes a long way."
The Chiefs Rookie Club hosted an all-inclusive Fantasy Camp at Arrowhead Stadium on September 24, 2019. Special Olympics and YMCA Challenger athletes in attendance received a surprise customized locker room name plate and jersey and got to visit the Chiefs locker room before heading to the field to participate in a series of Play 60 drills led by the Chiefs Rookie Club.