They filed into the gym one-by-one, almost all clad in red, eager to see their guests.
It was the Kansas City Chiefs' annual visit, after all, and there was no shortage of excitement amongst the dozens of kids partaking in the festivities.
This was no ordinary afternoon at the Children's Center Campus - home to both the Children's Center for the Visually Impaired (CCVI) and Ability KC – as the players led each of the kids through a variety of fun activities while spreading holiday spirit.
"It's Chiefs' day – our seventh Chiefs' day – and several players are here to visit kids in our classrooms," said Molly Turner, Executive Director at CCVI. "There's just nothing like it. We have kids coming in who don't normally have preschool today, but their families sent them in just to see the Chiefs. It brightens everyone's day."
Several members of the Chiefs' rookie class stopped by for the visit, which included interactions with both organizations.
"We had a great time making cookies and coloring some hats," said cornerback Alex Brown. "It means the world to me, especially with it being so close to Christmas. Everybody just had a great spirit throughout the day."
"They're sitting in little chairs next to the kids and are on their level spending time with them," Turner added. "The kids look up to them, so it's just a fantastic opportunity."
It's something that Brown didn't take lightly. In fact, the rookie defensive back has been volunteering with the Special Olympics since high school.
"I've been doing it every year and it's brought me closer to kids facing certain challenges," Brown said. "I hold it dear to my heart."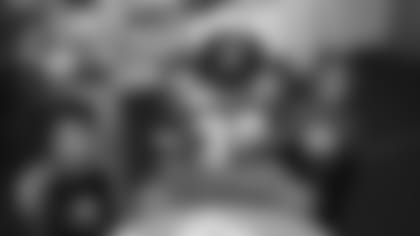 Both CCVI and Ability KC have been supporting children for decades right here in Kansas City, providing kids with the means to reach their full potential, and the Chiefs' annual visit goes a long way in making that mission a reality.
"It helps them to realize that they can have a day no different than any other child," said Amy Castillo, CEO & Executive Director at Ability KC. "Having the players here gives them inspiration, joy and a fulfilment in their day that they just don't typically have."