Sports are often about so much more than just the final score.
They demonstrate the power of the human spirit, unite communities amidst tragedy and inspire hope in the face in darkness. Sports provide an escape from the realities of the world, but in the process, they provide so many answers to the hurdles life repeatedly throws without warning.
For proof of this, look no further than two hours south down I-49.
The unthinkable struck Joplin High School just a few months ago as sophomore offensive lineman Kadin Roberts-Day suddenly passed away following football practice.
He was just 15 years old.
Roberts-Day was a son, a brother and a model teammate, demonstrating values beyond his years while impressing all who were fortunate enough to meet him. His passing was simply heart-breaking, and for the Eagles, this football season was suddenly about so much more than just giving their best each and every Friday night.
It was about making their friend proud.
"Kadin was a really special player for us. He was one of those guys that just made you better just by being around him, because no matter what was happening, he was always doing the right thing," said Eagles' quarterback Blake Tash. "After we lost him, it was obviously a huge hit to the team and we were all deeply saddened, but we knew we couldn't hang our heads. He'd want us to keep playing, because he was the most selfless person you'll ever meet."
Tash and the Eagles did just that, winning 10-straight games. Last Friday, Joplin defeated Jefferson City for the first time in school history. It's one thing to talk about rallying around a tragedy, but it's something else entirely to actually do so.
"It's powerful. Just to see the team come together like they have since my son's passing is what gives me strength," said LaShonda Roberts, Kadin's mother. "It's what makes me able to function every day."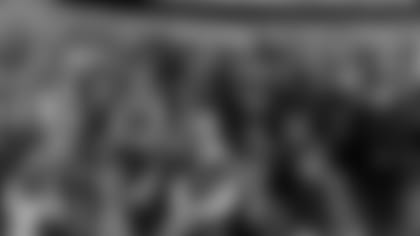 And the story was about to add another chapter.
A day after defeating Jefferson City, the Eagles traveled to Arrowhead Stadium to take in pre-game warmups ahead of the Kansas City Chiefs' bout with the Minnesota Vikings. They had a front-row spot on the grass as the likes of tight end Travis Kelce, wide receiver Tyreek Hill and others prepared for what turned out to be a thrilling victory.
"When we were walking down the tunnel, we just couldn't believe it when we saw the field. We all started going crazy," Tash said. "Most of us have never done anything like this before, so it's been amazing."
"He's super excited watching this because he loves football," Roberts added, emphasizing her son's passion for the game. "I know that he's looking down on us and I know that he's watching over everybody. He's just proud of everything that the boys have done and that they've come this far."
Sports are often about so much more than just the final score, and for the Joplin High School Eagles, this football season is a grand example of what the human spirit can accomplish in the face of tragedy.
Kadin Roberts-Day departed this life far too soon, but his teammates ensured that he'll never be forgotten.
"We knew if we hung our heads, we wouldn't be honoring him," Tash said. "We wanted to honor him with every game that we play, and it's truly been amazing. We know that he's out here with us."
Kadin sure caught one amazing game from the upper deck on Sunday.