After spending the first four professional seasons of his career with the Cleveland Browns, offensive lineman Mitch Schwartz came over to the Kansas City Chiefs this past offseason.
But he and his fiancé Brooke's Pomeranian puppy they call Cupcake?
Cupcake has nearly 40,000 followers on Instagram.
"My fiancé Brooke started the Instagram page after we got the dog and clearly, I named him Cupcake," Schwartz said recently. "It's a boy, yes, so obviously I named him because it's one of the great desserts. I made sure to name him Cupcake and give him a pink travel case and leash. It kind of started as something to do and instead of having to send pictures to a bunch of people, she created an Instagram."
Brooke, who posts new photos of Cupcake nearly every day using the handle "cupcake.the.pom," captions the photos as if Cupcake were speaking for himself.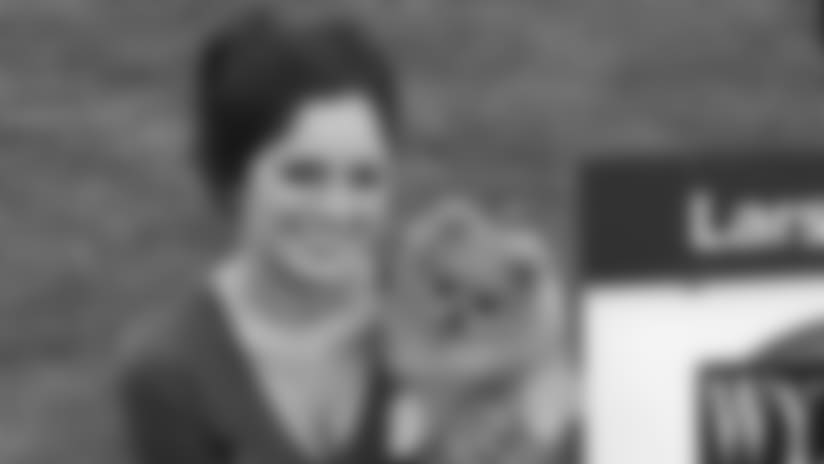 "She ended up being really good managing it and posting as the dog," Schwartz said. "We were lucky that the dog is exceptionally cute as well because I think people like following cute doggies."
Brooke began the Instagram page almost immediately after the couple adopted the puppy on October 20, 2015. Since then, she's used hashtags to gain followers, and the puppy's big break occurred when a popular dog website picked up this photo:
The "pupflix" Instagram account is followed by 923,000 people.
"This picture was posted when he was really young and it did pretty good at the time," Schwartz said. "A couple of sites picked it up, and then every couple of months it just gets recycled through the dog and internet world, so you get these sites that have multiple million followers, and they post it, and he gets a ton of new followers. Look at the website. It has 37,000 likes on that website, and that wasn't even the final number."
In addition to all the love on the web, Schwartz said that Cupcake has become recognizable in both Los Angeles and Kansas City, where he and his fiancé reside.
Cupcake's fame has in some ways eclipsed Schwartz's, a point he said he's more than fine with.
"I like it because I'd rather the dog be more famous than me."
---
To visit "Cupcake the Pomeranian" on Instagram, clickhere.