The offseason is a time for players to take a break from the grind of an NFL season, whether that be spending time with family, picking up old hobbies or, in Mitchell Schwartz's case, international diplomacy.
Kansas City's starting right tackle spent last week touring Israel with his brother and former Chief, Geoff Schwartz, along with the Titans' Avery Williamson, the Jets' Austin Seferian-Jenkins, the Falcons' Vic Beasley, the Broncos' Chris Harris Jr. and the Redskins' Josh Norman.
"We're just really excited to be here," Schwartz said in an interview with Israeli television. "It's our first time and we've been talking about coming here for a while, so when this opportunity came up we couldn't turn it down."
Schwartz took a dip in the Dead Sea, visited the Western Wall and enjoyed some Israeli cuisine among several other activities throughout the week, culminating in a meeting with Prime Minister Benjamin Netanyahu on Monday.
The Schwartz brothers each presented Netanyahu with a jersey, one from the Chiefs and another from Geoff's most recent team, the New York Giants, inscribed with Netanyahu's nickname "Bibi" on the back.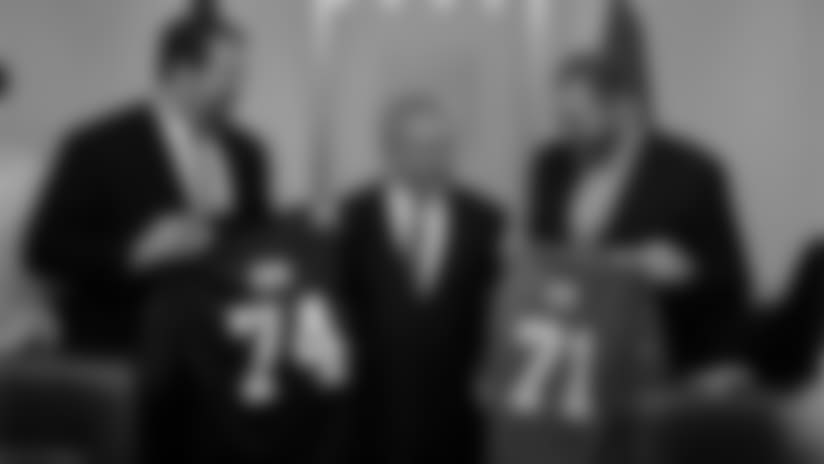 Photo by Judah Ari Gross/Times of Israel
It's an experience that Schwartz likely soon won't forget.
"You can learn about it and see pictures of it, but (it's different) seeing it in person and standing where people stood 2,500 years ago with the same architecture and the same stones," Schwartz said. "That's when you realize how special this place is."