The Kansas City Chiefs announced their annual team honors on Friday morning, naming quarterback Patrick Mahomes as the recipient of the Derrick Thomas Award and offensive guard Andrew Wylie as this season's Mack Lee Hill Award winner.
Both awards were determined by Mahomes and Wylie's teammates.
The Derrick Thomas Award is annually given to the Chiefs' most valuable player, a designation that Mahomes certainly earned throughout his first season as Kansas City's starting quarterback.
The 23-year-old Mahomes broke the franchise single-season records for touchdowns (50), passing yards (5,097), 300-yard games (10), completions (383), and 100.0+ passer rating performances (13) while becoming just the second player in NFL history to throw for 5,000+ yards and 50+ touchdowns.
Those impressive numbers wouldn't be possible, however, without the big guys such as Wylie blocking up front. A standout in training camp, Wylie earned a spot on the roster prior to the regular season and was soon thrust into action, starting 10 games at right guard following injuries along the offensive line.
His performance garnered this season's Mack Lee Hill Award, which is annually presented to the Chiefs' top rookie or first-year player in remembrance of the late Mack Lee Hill, who tragically passed away after two seasons with Kansas City from 1964-65.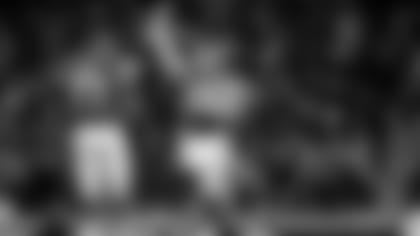 The efforts of both Mahomes and Wylie helped Kansas City clinch a third-straight division title and the top seed in the AFC. The Chiefs will return to action next Saturday to kick off the Divisional Round of the postseason at Arrowhead Stadium.