For those that live, eat and breathe Kansas City Chiefs' football, there's a new podcast network hitting the airwaves made just for you.
It's The Chiefs Official Podcast Network – a medium dedicated to providing fans with exclusive interviews, behind-the-scenes anecdotes and the latest in Chiefs' news directly from the source.
"Podcasts are one of the fastest-growing mediums in sports right now, and we want to be a part of it," said Chiefs Reporter BJ Kissel, who will host the Network's flagship show titled "In the Trenches." "It's our job to deliver the best content we can to those that love this football team, and this is just another way to do that."
Podcasts reach millions on a daily basis – including those right here in Chiefs Kingdom – and it's an area the Chiefs are ready to make their presence felt.
"The media landscape is always changing and evolving, and we know that avid fans are looking for content delivered in more ways than ever before," said Chiefs President Mark Donovan. "We've explored podcasts in the past, but believe we now have the technology and structure in place to really deliver unique on-demand content to our fans through The Chiefs Official Podcast Network."
The Network will feature several shows in the future, each of which will offer exclusive content designed for fans in Chiefs Kingdom. This football team means so much to so many, and through The Chiefs Official Podcast Network, fans can immerse themselves in it like never before.
From the latest news to captivating stories, the Network has it covered in a way that only the Chiefs can provide.
Kissel hosts "In the Trenches" alongside six-year NFL veteran Nick Leckey to kick things off for the Network, bringing together a pair of perspectives unlike any other. Nobody who covers the Chiefs is around the team more than Kissel, while Leckey knows first-hand what it's like to experience the grind of an NFL season.
Together, they provide a vantage point behind-the-scenes that's unmatched in the current market while also having plenty of fun along the way.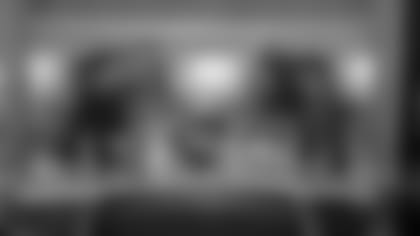 "We're going to break down what everyone is talking about and hit all the big stories, but most of all, we're going to have a good time," Kissel said. "I'll bring the perspective of a guy who's around this team every day while Nick brings some insight into what it takes to be a professional athlete."
Leckey, who was an All-American offensive lineman at Kansas State, suited up for the Arizona Cardinals, St. Louis Rams and New Orleans Saints during his career from 2004-09. He appeared in 65 games (32 starts) in that time, winning a championship with the Saints in 2009.
He retired on top following the Saints' Super Bowl run and now lives in Kansas City.
"As a player, I understand that you have to hold back some information when you're talking. You can't give everything away. Now that I'm retired, I can open up," Leckey said. "We want to show the thought-process behind things and talk about the human element – like an under the helmet look at the game - because I've been there and I've done that."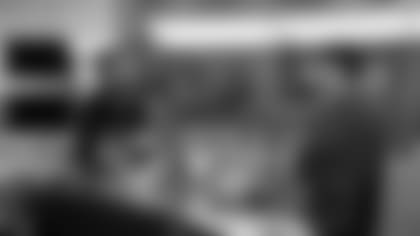 That experience made Leckey a natural fit to join Kissel on the airwaves when coupled with the fact that these guys go way back. Both K-State alums, the duo first met in person several years ago after coming across each other on Twitter. They've kept in touch ever since, talking about football and life in general on their own time. Now, they're just recording those conversations.
"We each bring something different. When I was playing, I always wanted to bring home stories to my friends. BJ is really good at extracting those, and now I can tell them," Leckey said. "He can also answer the questions like, 'What does a player do on a Tuesday or what's it like to travel?' I think that's really cool. Altogether, we're basically offering a peek behind the curtain."
"In the Trenches" is available now and will run on a bi-weekly basis up until training camp, when it will post weekly. When there's news in Chiefs Kingdom, Kissel and Leckey will have something to say about it.
And that's' just the beginning. While "In the Trenches" will serve as the Network's flagship show, there will be additional programming added as the 2019 season inches closer.
It's all yet another example of the Chiefs' desire to provide the very best content in the league.