Anyone who has soaked in a game at Arrowhead Stadium has seen them.
They're the handful of individuals, clad in red coats with a flag in hand, that help introduce the world champion Kansas City Chiefs out onto the field each and every Sunday prior to kickoff.
They come from all different walks of life - bound by a passion for the Chiefs and a desire to serve their community - and this group, known as the Kansas City Red Coaters, are looking for new members.
"We're the only group of our kind in the NFL, so that makes us special right there," said Mitzy Graybeal, the Red Coater Head Captain. "We're all such avid Chiefs' fans and every one of us loves giving back to the community – that's what we do. We get excited to do things and we always want to do more. We're all about the spirit of community and we have a lot of pride in that."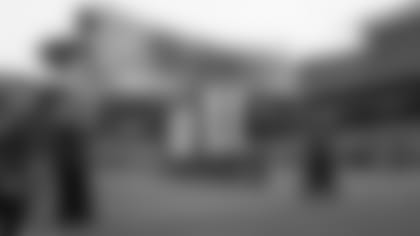 The Red Coaters' tradition is as old as the team itself, dating back to the franchise's first days in Kansas City. They drove ticket sales through much of their history, but their primary focus today centers on serving those in need throughout Chiefs Kingdom.
Season Ticket Members interested in joining the group simply need to fill out the application found here. There's an interview process in the spring, and those invited into the group will then undergo a season-long apprenticeship that immerses potential candidates into the lifestyle of a Red Coater.
"We have requirements to make community and stadium events, plus we're responsible for working Red Friday, which the Red Coaters helped start and we love doing. We also work training camp," Graybeal explained. "It's a commitment, but we have a lot of opportunities to volunteer, so it's not difficult to meet the requirements. You do need to make sure you meet them though to get your coat as an apprentice and to maintain it throughout the year."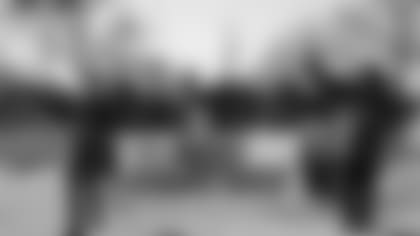 Graybeal has enjoyed every moment during her time as a Red Coater, and with applications now open for new members, her advice to those thinking it over is simple enough.
"Apply, because the requirements to maintain our coats are minimal compared to what we get back from the community and the Red Coaters as an organization. There's just such a sense of pride about being a Red Coater," Graybeal said. "If you're on the fence about it, I highly encourage you to apply because you will get so much out of it. It's probably the best organization in the NFL."
To apply, click here. The application process will be open until Feb. 28.