His 85-inch hips, size 23 shoes and relentless personality are unmistakable. He's a fixture both on and off the field for generations of fans, representing a brief escape from reality that only a larger-than-life persona can provide.
It's the magic of KC Wolf – the Kansas City Chiefs' iconic mascot – and for three decades, the man behind the fun, inspiration and excitement has been Dan Meers, who recently celebrated 30 years with the red and gold.
The journey has touched every aspect of Meers' life, from popping the question to his would-be wife at Arrowhead Stadium to taking the field at Super Bowl LIV. He's playfully heckled opponents for all but three games since 1990, and away from the gridiron, Meers has brightened spirits for those in need through visits in Kansas City, the United States and all over the globe.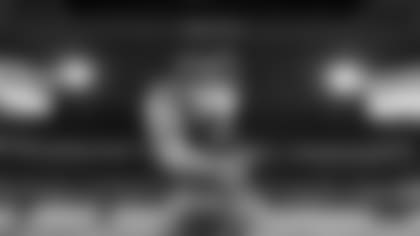 The shenanigan-loving KC Wolf has been the vehicle for generating that joy over the years, but make no mistake, the costume does not define Meers' life. In fact, it's really just the opposite.
KC Wolf is an extension of who Meers is.
"I read one time that if you ask a man his occupation, you'll find out how he pays his bills, but if you ask him his preoccupation, then you'll discover the passion of his life," Meers said. "My occupation is a mascot – I pay my bills running around in a costume – but my preoccupation and what I'm truly passionate about are my faith, my family and using my life to make a positive impact in this world that I live in. That's what I try and focus on each and every day."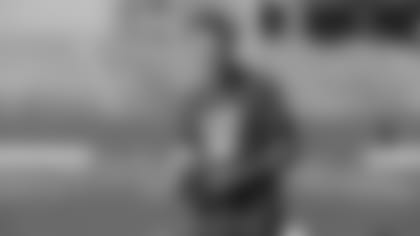 Meers has certainly accomplished that time and time again over the course of his career with around 700 events annually. He visits schools, hospitals, birthday parties and fundraisers in addition to his weekend responsibilities at Arrowhead Stadium in the fall, and what makes the resume all the more remarkable is how simply it began.
"I was reading the school newspaper one day at Mizzou and I saw they were having tryouts for Truman the Tiger," Meers recalled. "I just thought it seemed interesting, so I went to the informational meeting and decided, 'What the heck, I'll try out.'"
An avid sports fan but a self-described "three-sport benchwarmer" in high school, Meers had never been a mascot before. His only experience in costumes had been on Halloween.
"I tried out and I honestly wasn't really sure what I was doing," Meers said. "I tried to just be animated and have high energy, and while I don't know if I was great at my tryout, I was good enough to get a job."
And as it turned out, Meers was a quick learner. As one of four performers on campus, he quickly worked his way to the top position among his fellow mascots and began to impress on the national level, finishing with a top-four ranking in collegiate mascot competitions each year from 1988-90 and earning No. 1 honors in 1989.
Meers was a natural and even landed a gig with the St. Louis Cardinals while he was still in school, but even then, pursuing a career as a professional mascot wasn't really on his mind until the folks just down I-70 reached out with an opportunity.
"I figured I'd do it in college and then I'd get a real job like everybody else, but when I was doing Fred Bird for the Cardinals and finishing up college, I got a call out of the blue from the Kansas City Chiefs," Meers said. "They asked if I'd be interested in this new mascot program that they were starting up called KC Wolf, so I got to thinking about it and just thought it'd be a great opportunity. Here I am thirty years later."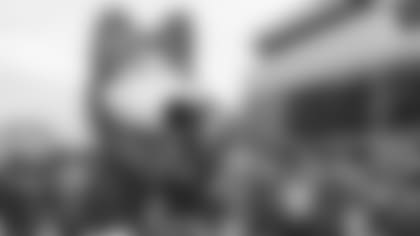 Meers has made his performances a staple of the Arrowhead experience in that time, from greeting opposing fans with a pie in the face to his hilarious wardrobe that grows seemingly every year. His actions on game day exist as another example of how sports can be a welcome and helpful distraction from the realities of everyday life, but what's particularly unique about being KC Wolf is that Meers can provide that same distraction away from the football field as well.
"If you ever go by my desk at Arrowhead, I have a quote there that reads, 'Laughter is like changing a baby's diaper. It won't change things permanently, but it sure makes things more bearable for a little while.' I've always loved that quote because my goal is always to bring a smile to people's faces," Meers explained. "I might not be able to change their circumstances, but every day I go out, I have the opportunity to hopefully bring some happiness and joy into their lives. They can forget their bigger issues or problems at least for a short while."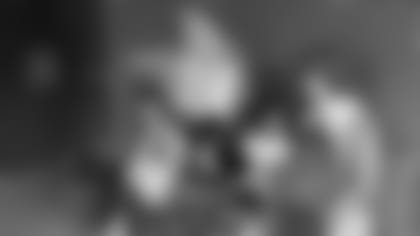 It's an inspiring lifestyle full of perspective, but Meers hasn't navigated this path without his own share of adversity. Seven years ago, an accident during a practice run of a stunt left Meers with seven broken ribs, a collapsed lung, a shattered tailbone and a broken vertebra among a laundry list of injuries.
It was a terrible stroke of luck that would likely end most careers, but not Meers'.
"My wife asked me if I thought I was going to retire, but I told her that I love what I do too much," Meers said. "I wanted to work hard and get back, and when you've been in the league for 24 years, you at least want to get to 25, right? It just made me appreciate it even more."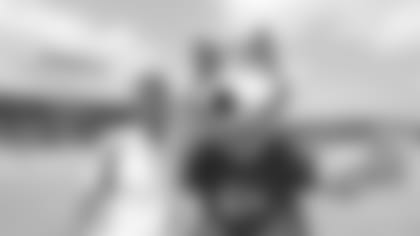 He's acted on that added perspective, too. Meers has written books, works as a motivational speaker and has even made KC Wolf a world traveler. He's visited India and parts of Africa, to name a few places, to spend time with kids at orphanages in need of a good time.
"These kids may not know who KC Wolf is – they might not even know much about football – but if you show up in a costume, you're automatically friends," Meers said. "I can communicate with anybody in a costume."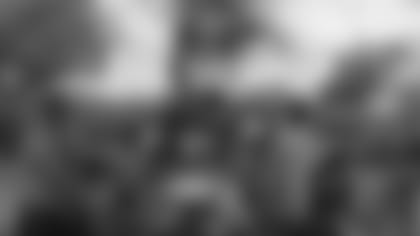 Indeed, the silliness and positivity that radiates from KC Wolf is undeniable and can shatter barriers, but in the end, it all gets back to the man behind the costume. Physically, KC Wolf is just three components – a midsection, shoes and a head - that make up a suit. It's Meers – and the way that he approaches every single day - that makes the magic that is KC Wolf come to life.
"I have the greatest job in the world. I work for the greatest sports franchise in the world with the greatest owners in the world and the greatest fans in the world," Meers said. "I'm just in a great position and I'm reminded of that every single day."