A photograph can be a powerful thing.
It has the ability to capture the raw emotion of a singular moment – whether that be a game-winning touchdown or a fan experiencing their first trip to Arrowhead Stadium.
We began exploring some of those moments from the 2018 season last month, along with commentary from Chiefs' photographer Steve Sanders, and will complete the countdown with this final photo.
Sanders, who has been on the job for over 20 seasons, hand-selected each of the photos in this collection as his personal favorites.
Here's a look back at the first nine entries:
We'll wrap things up with No. 1: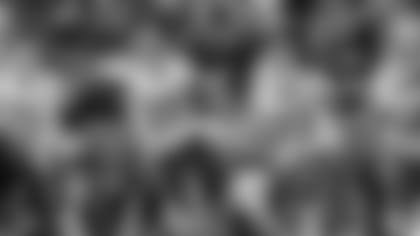 Location: FirstEnergy Stadium in Cleveland, Ohio.
The subject: Chiefs' quarterback Patrick Mahomes slings a pass while airborne in Kansas City's victory over the Cleveland Browns.
Model: Canon EOS-1D X Mark II
On why it's the top photo of the year: "Patrick threw several great balls in this game. He had a couple completions to Travis [Kelce] that were just amazing throws in the end zone, and this play actually set up one of them," Sanders said. "We were driving down the field and he was under pressure, so he just took off running and threw it while in mid-leap. One of the things that I really like about it is that all the people in the background are all just looking up at him like, 'How did he get away and how is he throwing the ball like that?' I just really like the expressions on the guys behind him while Patrick is clearly focused. It's my favorite picture of the year."
On capturing Mahomes while in mid-air: "I typically try to shoot all of my pictures from a kneeling position or as low as I can get, just because it helps when you're trying to capture detail. You're closer to the ground, so you can see that grass kicking up and you can see up into the helmet," Sanders explained. "Your background is also cleaner when you shoot from down low, so you get more of the fans. This was one of those cases where you're looking up the field, so you're going to get a little bit of the bench, but the cleaner the background, the nicer the picture ends up looking."
On getting the players' eyes in this photo: "It's a focal point. When you can get somebody's eyes in an action photo like this, it helps the viewer connect with everybody that's in the photograph," Sanders said. "It pulls that emotion together and you can see what they're doing."
With 2018 now in the books, the Chiefs will look to make some more memories with next season right around the corner.