From dedicating a new historical marker at the site of old Municipal Stadium to enshrining Brian Waters into the Ring of Honor and with plenty of events in between, "Fantennial Weekend" was a busy one for the Kansas City Chiefs.
The weekend's festivities were all in celebration of the NFL's 100th season - which coincides with the Chiefs' 60th campaign as a franchise – and there was no shortage of excitement throughout as the organization honored its great tradition while inspiring others to reach their full potential.
It all began with a visit to the Chiefs' original home at the corner of 22nd and Brooklyn, where old Municipal Stadium once stood. The franchise played within the confines of Municipal from 1963-71, winning multiple American Football League championships while endearing itself to Kansas City for generations to come.
Legends such as Len Dawson, Buck Buchanan and Bobby Bell all played at Municipal – not to mention the Kansas City Monarchs of the Negro Leagues - and though the structure is no longer around, the ground where it once stood is an integral part of Chiefs' history.
It was fitting then that to kick off Fantennial Weekend, the Chiefs – led by Bell and Bob Kendrick, President of the Negro Leagues Baseball Museum - returned to unveil a new historical marker for the site on Friday afternoon.
"I came here in 1963, and the first year that I played with the Chiefs was right here at this old stadium. That's what it's all about man," Bell said. "This is where we started. You can't take that away from us."
And that was just the beginning of a special night.Following the marker reveal, the contingent marched just two blocks over to Lincoln College Preparatory Academy to dedicate the Blue Tigers' brand-new field. The project – which was funded through an NFL Grassroots grant that the Chiefs and LISC helped the Kansas City Public School District secure – was ready in time for Lincoln College Prep to host their Homecoming game on Friday night.
It marked the first time that Lincoln College Prep was able to host a Homecoming game on their own field.
"Tonight is a celebration. It's bringing together the community to celebrate 100 seasons of the NFL and 60 seasons of the Chiefs in a place that's near and dear to us because this was our original home," said Chiefs President Mark Donovan. "Two blocks from here was Municipal Stadium where we first started in Kansas City, and to be a part of a team that funded the creation of a new field for a high school in the Kansas City Public School District is just a great culmination."
Chiefs' cornerbacks Bashaud Breeland and Alex Brown, in addition to legendary return man Dante Hall, even stopped by once the game began to check out the new field while cheering the Blue Tigers on to a victory.
"I just wanted to come show some support for these kids," Breeland said. "I met them earlier in the week and I'm trying to stay in touch with them…To see the joy on their faces playing on this new field is definitely memorable."
Lincoln College Prep preserved their undefeated record with a win on their new home turf that night, but they were up bright and early on Saturday to help throw the weekend's next major event in the Fantennial 5K at Arrowhead Stadium.
The race, which was presented by GEHA, invited fans to dash around the Truman Sports Complex before crossing the finish line to the applause of Chiefs' Legends Priest Holmes and Christian Okoye.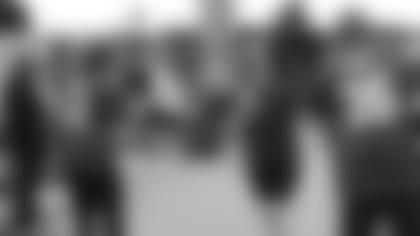 Some runners, such as Paralympian Dustin Gunter, even managed to cross the finish line multiple times
"I ran the race almost three times today. There was a guy who cheered me on at the beginning that got hurt halfway, so I started again and caught up to him to cheer him on," Gunter said. "I did it a third time after that to cheer on the kids that were running here today. Hopefully, I could be an inspiration for them."
It wasn't just the experienced runners though, as participants from seemingly every background came out for the event. The festivities went beyond just the race as well, as those in attendance were treated to a Fan Fest equipped with games, a DJ, a photo booth and – most importantly – a Super Bowl giveaway.
Every registered runner was entered into a drawing for two tickets to Super Bowl LIV, and when Okoye announced former GEHA employee Sheryll Thomas as the winner following the race, she didn't believe it.
"I was standing in line to get my picture taken when I heard my name, but I still didn't think it was me," Thomas said. "They had to say it a second time before I went up there."
Thomas, who retired three years ago, attended the race to see some old friends. She didn't even know about the Super Bowl giveaway beforehand, but she left the parking lot on Saturday with the surprise of a lifetime in-hand.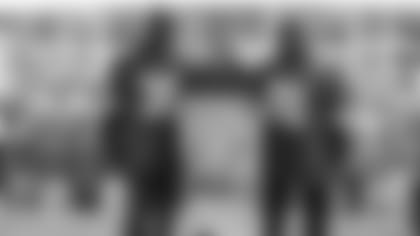 The weekend wrapped up on Sunday with the annual Legends Game, which once again invited former players back to Arrowhead Stadium to enshrine a new member into the Chiefs Hall of Fame.
Former All-Pro offensive guard Brian Waters, who played 11 seasons for the Chiefs from 2000-2010, was the recipient of that honor this season after compiling one of the best careers at his position in team history.
Waters was recognized by former teammates and fellow Chiefs' alumni from across decades during a pre-game reception on Sunday before having his name revealed in the Ring of Honor at halftime.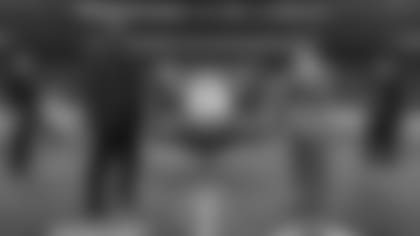 It was simply a well-deserved honor for one of the best to ever put on a Chiefs' uniform.
"Every game, I had the opportunity to sit back and look at the names in the ring around the stadium, and at a point in my career I wondered, 'Would there ever be a chance that I could add my name to that?'" Waters said. "I am extremely proud and humbled by the honor here today."
The ceremony wrapped up a memorable weekend for the franchise as the Chiefs celebrated all of the things that make the relationship between this team and Chiefs Kingdom so special.