A photograph can be powerful.
It has the ability to capture the raw emotion of a singular moment – whether that be the thrill of a Super Bowl victory or a fan simply experiencing their first game at Arrowhead Stadium.
We've explored many of those moments from the 2019 season over the next several weeks along with commentary from Chiefs' photographer Steve Sanders.
Sanders hand-selected each of the photos featured in this series as his personal favorites, covering everything from the dramatic to the hilarious.
We'll continue with No. 2.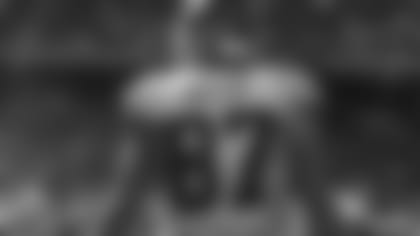 The Subject: Chiefs' tight end Travis Kelce walks toward the huddle as his jersey reflects a busy day on the field.
Camera Model: Canon EOS-1D X Mark II
Q: What do you like about this photo?
Sanders: "There are a lot of things about this photo that I like. This was actually the last game in Oakland to take place on a baseball field, and I was hoping that it would lend itself to a lot of dirty uniforms and a lot of dust, and it did. The texture of the dirt that's covering his jersey makes you realize that he's been on the ground and made plays. It just shows that Kelce has had an involved day, and he did have a big game that day. Having the Oakland background and shooting into the shade kind of almost makes the background look black and white, too. It really lets Kelce's white jersey separate from the background. I just knew when I shot this earlier in the season that this was going to be one of my favorite photos of the year."
Q: Was that natural light particularly good that day?
Sanders: "There are a couple places early in the season where you really get some nice light. California is one of those places, and particularly northern California. That stadium is wide, too, so it allows the field to be in the sunlight most of the day. Late in the day, you're going to get really nice, low and almost magic light. It was working there and everything kind of came together with the way Kelce turned and the way the jersey looked in the light. You even have a reflection of the stadium in the helmet. It's just one of my favorites."