The amazing story of Kansas City Chiefs' running backs coach Deland McCollough and the search for his biological parents is a must-read and watch for anyone.
Over the past several days, the story has made its way across the internet and social media.
It hits home for a lot of people, including a couple of Chiefs who knew both Deland, and his biological dad, before they even knew about one another.
"It just blew my mind because knowing coach [Sherman Smith] and knowing [Deland McCollough], it's just amazing how life happens," Chiefs' offensive coordinator Eric Bieniemy explained Thursday afternoon at the Chiefs' offices. "I'm still blown away."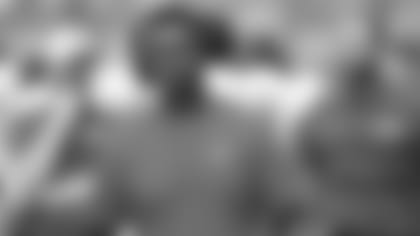 Without going too much into the story, McCollough spent years trying to find his biological parents only to find out that he had known his biological dad for most of his life.
Sherman Smith, who is now the running backs' coach with the Seattle Seahawks, had recruited McCollough—a standout prep running back in the Youngstown, Ohio area—to play football at Miami (OH) University, where Smith was the running backs' coach at the time.
It was the beginning of a relationship that neither of them knew at the time would impact their lives, and make for one amazing story.
Smith never knew he had a son before just recently. McCollough's mother never told Smith she was pregnant.
Later, after Deland's playing career had ended, which included spending one season with the Cincinnati Bengals in 1996, where he'd cross paths with Bieniemy, McCollough took a coaching internship with the Seahawks, which is where Smith was at the time. He was still in his McCollough's life as a mentor.
"He worked with three very good friends of mine," Bieniemy noted of Smith and McCollough up in Seattle. "Tom Cable, who is now the offensive line coach with the Raiders, and Darrel Bevel, who is out of coaching right now, and then Brian Schneider, who is the special teams' coach, they were all picking up their phones at individual times throughout the course of the summer and calling me and saying like, "Hey, what's the deal with Deland and Sherm?"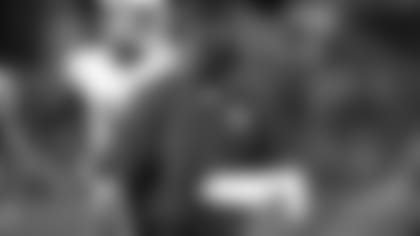 Bieniemy's friends in Seattle knew that he knew of McCollough, who was a young coach beginning his career, and Bieniemy knew of Smith because he was a longtime running backs' coach.
"They've got the same mannerisms," Bieniemy recalled them all saying during those conversations. "I'm like, 'We're not hearing the entire story about these guys—joking, but being serious, but not even knowing. You look at it now and fast forward to this point, it's an unbelievable and unreal story.
"I just think it's truly a blessing."
Another guy in the Chiefs' running backs room right now that'd know about both Smith and McCollough is Spencer Ware, who began his career with the Seahawks before signing a futures deal with the Chiefs a few years ago.
"I can definitely see it," Ware laughed when asked about knowing the two coaches and whether he could see any similarities looking back. "It's the upper lip. Once they got rid of the mustache, it was over. You were able to see everything."
When McCollough had the conversation with Ware about Smith and the search for his parents, Ware couldn't help but see the theme to the brand he's come to call his own.
"I told him the other day, that's a prime example of a 'Yes Lawd' moment," Ware noted. "It's always believing in something. Your creator isn't going to let you just wander aimlessly without a purpose or meaning, he's always watching over you."