It was the ideal blend of speed and technique coming at the most opportune of times.
With the Los Angeles Chargers facing a third down inside of Kansas City Chiefs' territory midway through the first quarter, linebacker Dee Ford exploded forward off the snap and past Chargers' left guard Dan Feeney, leaving the second-year lineman diving in his wake.
Ford was on Chargers' quarterback Philip Rivers before the veteran passer could even scan the field, pushing Los Angeles out of field goal range and taking back the initial momentum of the game.
"It was cool," Ford said with a smile. "Just rushing, man. You never know when you're going to get there. You're just rushing."
Ford went on to tally four quarterback hits in the contest and was active in coverage as well, making a touchdown-saving tackle in space on Pro Bowl tailback Melvin Gordon late in the game.
This was all in Ford's first game action since last October, as a back injury limited the former first-round pick to just six games in 2017, and it demonstrated what the 6-foot-2, 250-pound linebacker is capable of achieving when healthy.
"That was the most important part – just playing healthy," Ford explained. "Last year was a tough year for me. I tried to play through it, and it unfortunately didn't work out, but to get back – and to reminisce on the hard work that it took to get back – felt good. So now, it's just about knocking the rust off and getting back into peak form so that we can win some games."
Ford tallied a team-leading 10.0 sacks just two seasons ago, displaying an ability that the Chiefs are hopeful the Auburn product can recapture in 2018.
"I think Dee has some unique attributes from a rushing standpoint: a great first step and great speed," said Defensive Coordinator Bob Sutton. "He had a really good camp and I think it continued into the game – where he played really well besides just the pass rush. If he can just keep going from where he started this offseason, he has a chance to have a really good season for us."
That's an encouraging thought for the Chiefs' defense, pairing a healthy Ford with fellow edge rusher Justin Houston.
"He showed last week what he can do. He's healthy, flying off the edge, making plays and causing pressure - that's typical Dee Ford," said defensive end Chris Jones. "When you have two studs playing outside linebacker, you have to account for them. If you try playing them 1-on-1, they'll dominate your outside guys, and it frees us inside guys up with a lot of 1-on-1 [opportunities] that we can take advantage of."
That all translates into an effective pass rush – something the Chiefs will try and deliver in this Sunday afternoon's bout with the Pittsburgh Steelers.
"They're physical. They're not really maulers, but they're very fundamentally sound in what they do," Ford said of Pittsburgh's offensive line. "They want to run the ball, and Big Ben [quarterback Ben Roethlisberger] does a great job. He gets rid of the ball quick, but he also holds it when he wants to make a play, so it's important to rush consistently."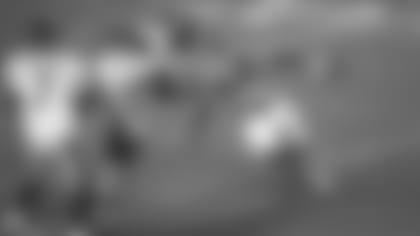 Ford has enjoyed a fair share of success against Pittsburgh in his career, getting after Roethlisberger in each of his last three meetings with the Steelers, but he acknowledged that a disruptive pass rush begins with stopping the running game.
"We have to stay gap sound, get off blocks and make tackles," Ford explained. "It's simple. There's no [particular] defense you can call. Just if they line up to run the ball, we have to make plays."
Ford will have an opportunity to do plenty of that on Sunday as he works towards an even bigger goal as the season progresses.
"Just to get better," Ford said. "The sky is the limit."