The kid did it yet again.
Quarterback Patrick Mahomes has repeatedly made the remarkable seem routine this season, and his performance in the Kansas City Chiefs' victory over the Cleveland Browns on Sunday afternoon was no different.
Mahomes threw for 375 yards in the contest, surpassing the career-high that he set two weeks ago against Cincinnati (358). It was the third-most passing yards by a Chiefs' quarterback since 2010, and the most since Week 4 of the 2015 season.
The 23-year-old Mahomes also tossed three touchdowns on the afternoon, pushing his season-total to a league-leading 29 - which is six more than the next closest passer.
And here's where the statistics begin to get crazy.
For starters, when including his debut in Week 17 of last season, Mahomes' 3,185 passing yards and 29 touchdowns are the most through the first 10 games of a career in NFL history.
Those 29 scores are just one shy of matching Len Dawson for the most ever by a Chiefs' quarterback in a single season, and there's still seven games remaining. Mahomes has reached that number so quickly through methodical consistency, throwing at least three scores in all but two games this year.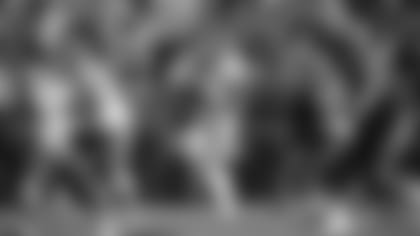 Additionally, Mahomes has thrown for at least 300 yards in a staggering eight-consecutive games, which matches Andrew Luck (2014) for the longest streak ever in a single-season and the third-longest streak overall in NFL history.
With a 300-yard performance this Sunday against the Arizona Cardinals, Mahomes would match Drew Brees for the record while also establishing a new franchise mark for 300-yard games in a single season.
The ridiculous numbers are becoming commonplace, but according to Head Coach Andy Reid, Mahomes' demeanor hasn't changed a bit.
"You appreciate him when you're around him every day, and just the spirit that he brings and the attitude that he has. You don't even worry about him getting a big head or getting complacent," Reid said of his young quarterback. "He just goes out, he plays, he works hard and he loves doing it. He just goes about his business the way he's supposed to do it."
And while those outside of the locker room may be surprised by Mahomes' sizzling start to his career, those inside the building are far from it. When asked if he expected Mahomes to find this much success so early, tailback Kareem Hunt's answer was matter-of-fact.
"I did," Hunt said. "I just know what type of player he is and how competitive he is. He's going to take chances, and most the time, they're good chances."
Hunt hauled in one of Mahomes' touchdown passes on Sunday, and with six receiving touchdowns on the year, the second-year tailback has already doubled the number he had in 2017.
In fact, Hunt is one of six Chiefs' pass-catchers with multiple touchdown grabs this season, which is indicative of Mahomes' tendency to take advantage of the slew of weapons at his disposal.
"It's a lot of fun. It makes my job a lot easier knowing that I can trust these guys to be in the right spots," Mahomes said. "They're taking care of their business, running their routes and making route adjustments on the fly, because they've watched the film and know what to do. Having that much talent and studying the film like that is what makes our offense so good."
That focus on the details has produced the most prolific offense in franchise history through nine games, as the Chiefs' 327 points this year bested the previous mark, set in 1966, by a whopping 18 points.
It's the kind of performance that demands attention.
"I'm like a fan on the sideline. It's like I'm sitting in the crowd just watching the show," said defensive end Chris Jones. "You never know what you're going to get out of our offense - we have so many schemes, crossing routes, play-action passes and screens going whichever way. We have so many exciting things going on, you don't have any choice but to be excited."
Chiefs Kingdom couldn't agree more.