Travis Kelce has put together his fair share of productive outings for the Kansas City Chiefs over the last six seasons, leading the team in catches (386), receiving yards (4,982) and touchdowns (31) since 2014, but this particular performance takes the cake.
The All-Pro tight end tallied his best game as a professional in the Chiefs' victory over the Oakland Raiders on Sunday afternoon, hauling in 12 catches for 168 yards – both career-highs – while finding the end zone twice.
His 168 yards through the air were the most ever by a Chiefs' tight end.
"Travis and [quarterback] Patrick [Mahomes] had something going today that was special," said Head Coach Andy Reid following the game. "They did a really nice job."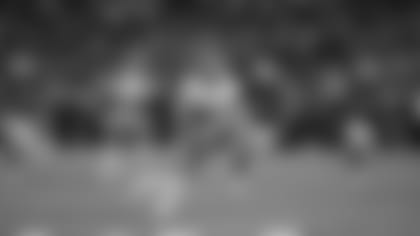 Mahomes targeted Kelce 13 times in the contest, connecting with the veteran tight end on each of his first 12 throws that direction. Four of those completions came on third down, with the last of the four picking up 25 yards to move the chains on the Chiefs' final offensive drive.
The conversion came at a critical time in the game, as Kansas City led by just three points with only two minutes remaining. The Chiefs were faced with a third-and-five, and rather than giving Oakland an opportunity to tie or take the lead, Mahomes floated the ball over a defender and Kelce rumbled all the way to the Raiders' 4-yard line.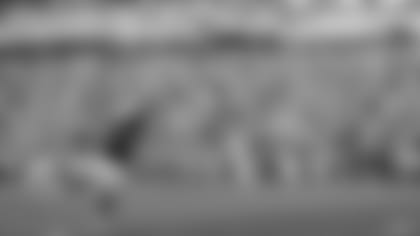 The play set up wide receiver Chris Conley's game-sealing touchdown three snaps later.
"Their defense put a lot of guys in coverage, so they had kind of taken my reads away, and I had scrambled out and the [defender] almost got me," Mahomes explained. "He baited me like he was going to come up and then he faded back, so I was kind of in-between running and throwing and I just put it up there. Kelce made plays all day long when I gave him chances, and he made a great play on it."
"That's what makes [Mahomes] so special – he's able to put the ball in a place where only I can get it," Kelce added. "It's been a work in progress – I know that I haven't caught everything – but I've had a little more concentration while the ball is in the air. It's been a learning process for me."
That learning process seems to have gone pretty well to this point, as Kelce managed to surpass the 1,000-yard receiving mark on the year midway through the game – a milestone that Kelce has now reached in each of the last three seasons.
In fact, Kelce is just the second tight end in NFL history to tally three-straight 1,000-yard campaigns, joining Greg Olsen.
Statistics don't always tell the entire story, but when historic individual performances take place when the game is on the line, it means just that much more.
That was certainly the case for Kelce on Sunday.
"[Mahomes] knows that he can trust me to catch the ball," Kelce said. "It helped us get a win today."