A photograph can be powerful.
It has the ability to capture the raw emotion of a singular moment – whether that be the thrill of a Super Bowl victory or a fan simply experiencing their first game at Arrowhead Stadium.
We explored many of those moments from the 2019 season over the last several weeks along with commentary from Chiefs' photographer Steve Sanders, highlighting the top photos of the year. Sanders hand-selected each of the photos featured in this series as his personal favorites, including shots from the beginning of the season all the way to Super Bowl LIV.
We'll wrap up with No. 1.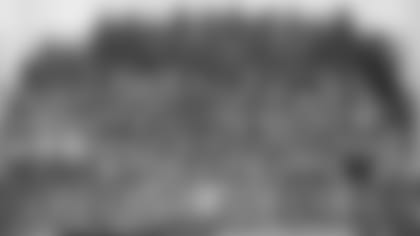 Game: Team Photo Day prior to Super Bowl LIV
The Subject: A moment of absolute hilarity is captured prior to the Chiefs' team photo for Super Bowl LIV.
Camera Model: Canon EOS-1D X Mark III
Q: Why is this the top photo of the year?
Sanders: "This isn't a game-day photo and it's not necessarily something that we always share. It was our team photo, but there was so much going on here. Practice had ended a little bit early and we were waiting on a few executives for the photo, but the players had all assembled on the risers and we were just waiting a few minutes while getting everybody positioned correctly. [Quarterback] Patrick [Mahomes], who was going to be standing in the second row, saw an opportunity to make a great picture and moved to those vacant spots in the front row that are meant for Coach [Andy] Reid, General Manager Brett Veach, President Mark Donovan and [Chairman & CEO] Clark Hunt. He looked up at me, gave me a nod and a wink, then came around the corner before taking his position there on the front bench. I took a couple quick frames and that was it."
Q: What was the mood like during this moment?
Sanders: "Everybody was laughing, but there's so much going on here. It circulated all over the internet and everybody was breaking down all the little pictures inside this picture that were going on. There's so much, such as [defensive end] Frank Clark showing [linebacker] Damien Wilson how to do the shark in the middle and [quarterback] Kyle Shurmur grabbing Patrick's leg. There are so many little things that you can find. You can spend a lot of time doing it. These guys were having so much fun and it just showed how loose we were going into that game."
Q: What does this photo say about the 2019-20 Chiefs?
Sanders: "There is so much personality on this team. They get along like a family and there are a lot of friendships. I think that bond is what helped this team develop the chemistry it needed to win and persevere through the season.